A Video, Pictorial and Textual History of Eleanors' Life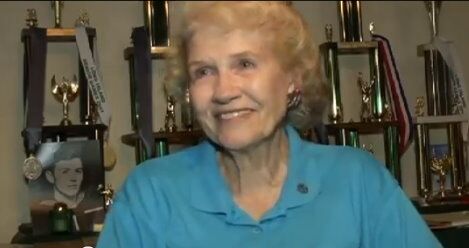 Eleanor Started playing Table Tennis at the age of 8. Although her accomplishments in the world of Table Tennis are truly remarkable there are also many other areas of her life where she truly excelled:
• A Champion on horseback and barrel racing
• A Master Tuner and Head of the Piano Tuners Guild
• Eleanor had many recipe's published due to her excellent skills in the kitchen
*Many different types of Pies were published in Newsday
* Special Dishes like her Devilled eggs and Southern Green Beans
* Long Islands most beautiful Grandmother!
* Long Islands Number one Senior Table Tennis Champion on the Long Island Senior Olympics.
Some of her story will be told in print but most will be told through the pictures
On this website. It is a tribute to her many accomplishments.
One story she told recently was that there was an equestrian competition in Smithtown and since she did not have a trailer for the horse, Eleanor rode Her horse from Deer Park where she lived at the time all the way to Smithtown And of course won the particular event she participated in. Eleanor mentioned Barrel racing as one type of event.
Eleanor Leonhardts accomplishments in Table Tennis have reached truly Legendary status. Even in the last few years. As recently as May 2012 while battling a terrible illness when her doctor told her to rest she went out the next day and won first place in the Doubles Tournament in the Toughest "A" Division. Amazing!
Eleanors personal style in Table Tennis is self taught. She adjusted her paddle over the years to her own "windshield wiper" technique, building up a notch on the back for greater traction for great backhands and extra torque for chops. Eleanor is really an innovator in the world of Table Tennis and has won so many trophies that all shelves are full and the overflow goes in closets and the spare rooms in her beautiful Home. A Tennis Trophy usually is not very valuable itself but what it represents to the players is priceless. The pinnacle of achievement in a highly skilled sport.
One of Eleanors former Doubles partners went to China and was part of the "Ping Pong Dipomacy" at that time in the early 1970's. Eleanor had several Doubles Partners' Men and Women and some of them are chronicled her either in the pictures or videos where she speaks of them.
Eleanor had clubs on Long Island as long as she has lived here for more then 50 years. Whenever she changed homes the first thing on her mind was always "Is the basement large enough for Ping Pong Tables?".
When Eleanor was 12 she was a spotter for the Air Force. She went into a room with all adults and the idea was to be able to identify the different aircraft. Well Eleanor knew most or all of the answers about the shape and sounds of which aircraft were which and showed up all the adults present! She became the youngest spotter for the Air Force in World War II.
Eleanor was a self taught woman always. She taught herself about nutrition and healing. Always studying, always learning.
In recognition for the extraordinary life of Eleanor Leonhardt. Eleanor was the first woman to be accepted into the Long island Suffolk chapter of the Piano Technicians Guild (PTG) (in the late 1960s.) As a piano technician Eleanor was a perfectionist (as we know) she had VERY high standards and would never "settle" for doing a mediocre work. Eleanor passed several tests given to her by Piano Technicians Guild examiners becoming a "Registered Craftsman" member of that organization (VERY few women at that time had ever attained these credentials.) . Eleanor hosted Suffolk chapter of the PTG for at least 25 years. Eleanor is also an Evangelist for table tennis. Hundreds of people are enjoying this great sport who otherwise would not had it not been for her efforts the last 45 years. Eleanor has always opened her home to table tennis players of all levels of ability 1-2 nights per week. Eleanor would never buy a home unless it had a 12 foot ceiling in the basement and plenty of square footage. She put table tennis and its players first. When the Huntington Finley club folded, there was no "regular" table tennis in Suffolk county (I knew of) except at Eleanors home. Eleanor "rescued" 12 tables from the defunked Finley club which we were told were going to be thrown in the dumpster had she not made the efforts she did. Eleanor organized a crew of 6 using my van and trailer we moved all the tables out to Calverton where one of the players had space to store them. We played at the West Islip Moose club until Eleanor got us East Islip High School . We played at East Islip a few years. Eleanor got us an even better place and better deal at Connetquot High school which is the current home of the Bohemia table tennis league and tournaments. Eleanor has gotten Long Island Table Tennis promoted in Newsday and other media on numerous occasions. Eleanor advertised table tennis on her car , the super market bulletin boards craigslist USATT (you name it.) Eleanor recruited Derek Chang to create PingPongLongIsland.com (the official website of the Bohemia table tennis club.) Eleanor encouraged the late Bob Tillinghast to start another succesful TT club in Hampton Bays and Father Renea to start a table tennis club at the Catholic school in Ronkonkoma which they did. Eleanor was a great table tennis player, a several time Long island and NY State womans champion. Doubles champion. She was one of the best players in the Huntington and Seaford leagues. The sport of Table tennis is SO much easier to learn today. Just "google" table tennis and whatever you want to learn, go to youtube and search. These tools were NOT available to Eleanor and others learning the sport at that time. Finding a good coach was very difficult. Eleanor taught herself how to play. Eleanor created the "seemiller grip" not former US champion Dan Seemiller. Eleanor had a very strong mental game (very shrewed strategy) excellent control, a great serve, a VERY heavy push and a "rocket" backhand that usually goes by you before you can start to move your paddle to block. Bill Maguire 09.08.2013
I first met Eleanor when I played in my first table tennis competition, the Long Island Open of 1983; Fred Danner's tournament in Huntington. I got to the final of one section but was beaten early on in another by a woman that I thought would be a fairly easy win for me. Why did I think that ? Well, she didn't move around the table very fast, didn't appear to have much of a forehand and after all, she seemed to have 20+ years on me. Well the only thing I was correct about was the age difference which, of course, meant nothing at all. She didn't appear to move around the table very quickly because she didn't have to move quickly. Everything I attempted to do was easily anticipated by her. It was as I if I were a novice chess player facing Bobby Fischer! Her forehand, while not as thunderous as her backhand (even as a poor basement player in his first tournament, I could appreciate the quality of that shot!), was a stroke that she could place anywhere she wanted (usually to the spot you thought she couldn't hit it to), and she would impart a disquieting and downright annoying spin to it. However her greatest weapon was one that I hadn't been aware of right away. That was her concentration, her will to win, her mental toughness. (That quality of Eleanor's was on full display when I watched her 30 years(!) later win the Bohemia club doubles tournament last year in an extremely competitive field.)Many years later when I returned to table-tennis after a 12-year hiatus, it was to the welcoming environs of Eleanor's home. Not only was she encouraging, supportive and seemed genuinely happy to see me, she was the same way with my two children. The instant I saw her, her wonderful smile, her witty remarks, her high intelligence captivated me all over again. I like to think that as a society we are still producing women like Eleanor Leonhardt, with her long list of accomplishments ,varied areas of expertise and her kind nature and good heartedness. However, in my lifetime, I don't expect to meet anyone quite like Eleanor again. Thank you Eleanor! Dave Leone, Sunday, November 10th, 2013